Val Norman Woodworth
October 11, 1955–March 26, 2022
Val Norman Woodworth passed away at age 66 at his new mountain cabin in the Blue Mountains, peacefully, in his most favorite place on Earth on March 26, 2022.
Val was born weighing five pounds on October 11, 1955, in Dayton, Wash., to Harley Norman and Geraldine Francis (Hermanns) Woodworth. He was the "baby" of the family. Harley said: "He was so small and gangly, he barely got his seed back."
But Val grew in stature to 6' 7", proving to his father that from little seeds grow mighty trees.
His father named him Val after a fellow soldier and dear comrade he'd lost in the Army, a name of honor and valor.
Val had a passion for the Blue Mountains, especially the Burnt Fork area, as from the age of 3 years, he remembered many special times with his family and Grandma Carrie Woodworth at the little cabin Harley built.
He often said he "would seek solitude and relaxation there, taking long walks and clearing his thoughts."
At the age of 5, his folks bought the Pink O'Neil place at Fudge Flats, and a whole new world opened for a little boy. He spent endless hours exploring the nearby Touchet River, and when he could finally ride a bike, that opened up the entire Huntsville community and grocery store to a rangy, young boy.

In his early teens, he had vast opportunities on his motorcycle, sometimes including a Winnett or Abel in his travels. He would ride into the Blues via Bundy Hollow to Jasper Mountain and down Thayers Grade to Burnt Fork, spending the weekend at the hunting cabin.
He loved fast cars, especially a black Dodge Charger and was very mechanically inclined.
Val attended Dayton Elementary and Waitsburg High School, graduating with the Class of 1973. He played basketball in his high school years and continued that "love of the game" on town teams for many years.
He worked at the Green Giant Co. and Danforth Farms in high school and through college in the summers.
Val earned an Associate of Arts degree from Walla Walla Community College, attended Yakima Valley Community College, Big Bend Community College, and finished at Eastern Washington University in Cheney with a degree in Civil Engineering.
Val then decided he needed to be home, helping his father in the family business, Cropland Air Service.
He and Harley purchased a training airplane and Val began flight training with a local flight instructor, Loyal Baker, finishing his Private Pilot certificate in a speedy 86 days. Shortly after, Val completed Commercial Pilot training, added tail wheel training and began his "apprenticeship" with Harley.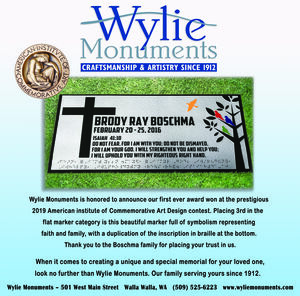 He purchased Cropland Air Service after his father retired, having flown 42 years for producers in the Touchet Valley. The responsibility of debt fueled and pushed him daily, and Val was determined to continue his father's well-earned legacy and fulfill his obligations.
During his 30-year career as a crop duster, he had three off-airport incidents: one at the Lower Hogeye airstrip, one on the Shanty Zuger place, but the worst one was in Ring Canyon where he caught a wing tip on the BPA powerline and sustained a badly injured left foot and crushed three vertebrae in his upper back. Val freed himself from the burning wreckage and started hiking to town. Someone had seen him go down and had called it in. Dan Culley was the first person that came, loaded Val in his pickup and headed for Dayton General Hospital.
Val said "His father told him to put on his leather lace-up boots and get back at it, that foot would heal, but farmers were waiting." Val put off foot-repair surgery until retirement.
He sold the business in 2014 then took a position with Wilbur-Ellis Company in Huntsville as manager/field man for two years before retiring for good.
He had many interests to keep busy at the Bramhall Road place and his mountain property.
In 2016 he started a life-long dream to build a cabin, hired a contractor and spent many days and weeks helping see the project to completion in October, 2021.
He was talented and handy, like his dad, at carpentry and if he didn't know how, he would search on the internet and learn by himself.
He was a member of the Waitsburg Lions Club, serving as president, and Waitsburg Rural Fire Volunteer.
Val was recovering from knee-replacement surgeries in 2021 and looking forward to traveling and spending time at the cabin.
Val is survived by his precious Mother, Geraldine, nearly 95; his sister, Connie Dobbins; two sons, Grant Andrew (Andrea) of Walla Walla, and Tyler Hayden (Katie) of Olympia; grandson Aidan and granddaughter Nadia; numerous nieces, nephews and extended family.
He was preceded in death by his valiant father; sister Terry Lee Woodworth; grandparents Andrew and Dorothy (Strahm) Hermanns; and Hayden and Carrie (Palmer) Woodworth.
He was a "Gentle Giant" and will be missed by ALL who loved him.
A Celebration of Life and graveside service are planned for a later date.
Memorials may be made to the Waitsburg Lions Club in Val's name or a charity of the donor's choice.
Arrangements are under the care of Corbiell Funeral Home, Dayton.