Duke O'dell Morrow Sr.
December 3, 1946 – July 12, 2021
Duke O'dell Morrow Sr, 74, passed away peacefully on Monday, July 12, 2021, at the Palouse Veterans Home in Walla Walla, Wash.
Born December 3, 1946, to JM and Leora Morrow, Duke was one of six siblings raised in the local area. He attended local schools and graduated from Waitsburg High School in 1965. Shortly after graduating, he joined the U.S. Army and was sent to Vietnam.
Our Veteran never talked about his time in the war and was very guarded when asked about his service for our country. He was awarded two purple hearts for his time spent and injuries sustained in-country and was a hero that should be remembered as such!
After returning from his service in the military, Duke married Kathy McCauley, and together they had a son Todd Lincoln Morrow. Kathy and Duke later divorced. Duke married Glenys Barnett and they welcomed a son, Duke O'dell Morrow Jr. in January 1976. After many years, Glenys and Duke divorced as well.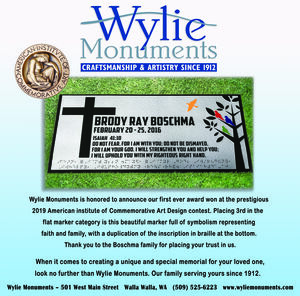 Duke married his current wife Judy, and they were married until his passing. They lived in Dixie in the home that he had purchased and lived in for the past 37 years. He was an electrician and worked for the Walla Walla School District, where he retired from.
Duke enjoyed his years of retirement fishing and camping and taking his motorhome to some of his favorite spots. He loved to fish and camp at the Tucannon lakes and have a fish fry with his catch. He was always excited to catch the occasional Triploid.
He is survived by his wife Judy Just-Morrow of Dixie, Wash. He is also survived by both sons & his grandchildren. His eldest son Todd of Fife Washington, grandsons Jacob and TJ, granddaughter KaetLynn. His youngest son Duke and Daughter-In-Law Lisa & grandson Jasper of Waitsburg, Washington
Duke is also survived by two sisters Penny (Chuck) and Carla Morrow and Sister-In-Law Deena (Ben) as well as numerous Nieces and Nephews. He was preceded in death by both parents, JM & Leora Morrow, a brother Ben Morrow (Deena), a brother Jimmy Morrow, and his sister Sherry Morrow.
There will be a celebration Lunchtime (Noon) BBQ to honor Duke on July 25, 2021, at the Waitsburg Fairgrounds Lion's Building. Lil' Duke will be grilling up burgers so bring a side and a favorite story/memory to share.