Low and zero down loans may be key for first-time buyers
We thought that we were years away from homeownership. Turns out, we just needed to research our loans
The home buying process can be terrifying, especially as a first-time buyer. While we haven't closed quite yet, my family is in the process of purchasing the house we have been renting since 2018, and boy has it been a rewarding learning experience.
Homeownership seemed like a reach for a mountain of reasons, and saving up for a 20% down payment was the most daunting. We started our journey with little to no idea there were options outside of a conventional loan. After some in-depth research, we found a handful of zero to low-down-payment programs through government-backed programs and private lenders.
One of the zero-down loans we considered is offered by the U.S. Department of Agriculture (USDA). The USDA loan program is geared towards rural settings, like Waitsburg and Dayton, has generous credit thresholds and loan amounts. The interest rate was just slightly higher than the loan we ended up securing, but at 4.11%, there wasn't much to complain about.
The USDA loan program is government-backed, protecting the lenders should the borrower be unable to repay the debt. This assurance allows the lenders to offer lower interest rates and better terms to people who would not readily qualify for a traditional loan.
USDA Loans are great for first-time homebuyers and require the property to be a primary residence for the borrower. You cannot use the home or property for business purposes, which is one of the downsides if you plan on opening an in-home office or want to get into farming. The closing costs were also slightly higher, with a little less flexibility than our bank-provided loan.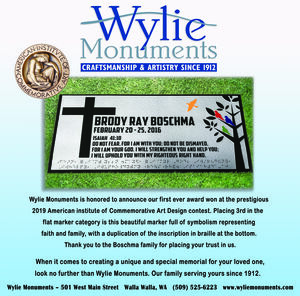 If a USDA Loan sounds like something that you are interested in, check out the program details at https://tinyurl.com/22r9fuzw, or talk to a mortgage company or loan officer. At Academy Mortgage in Walla Walla, Tara and her team helped navigate those first steps for us!
There is a good selection of mortgage services in our area and asking your friends and family for recommendations is a great way to find a company that is right for you.
If you can afford a small down payment and need something to accommodate a low credit score, the Federal Housing Administration (FHA) offers a loan that may be perfect for you. Like the USDA loan, the FHA is a government-backed program and can offer lower interest rates and a better chance for first-time buyers to get approved. The required income thresholds are reasonable and require applicants to have at least a 500 on their credit score. The program determines the down-payment amount using credit scores; those between 500 and 579 qualify for a 10% down payment, and scores of 580 and above only need a 3.5% down payment. The FHA loan program is more understanding about extenuating circumstances, like bankruptcies and foreclosures than conventional lenders.
We ended up going through our credit union, which offered a zero-down, low-interest, 15/15 adjustable-rate mortgage (ARM). Our interest rate for the first 15 years of our loan is locked in at 3.5%, and at year 16, the rate will be adjusted once for the duration of the loan. There are specific caps to how high the lenders can raise these rates. ARM loans typically start with lower interest rates than a fixed 30-year mortgage and can work well for first-time homebuyers. Research from the National Association of Realtors showed that the median length of time that people stay in their homes is just 12 years. That is, you're more likely than not to sell your home before you even get to the 15-year adjustment. That's especially true for people ages 36 or younger, where the median time spent in a home is just ten years.
It is always worth checking to see what your bank has to offer!
If you bank locally, both Banner Bank and Gesa Credit Union have excellent first-time buyer programs offering low or no down payments, competitive interest. Being local also makes it easier to meet with loan officers to discuss options.
If you are not eligible for no-down options and cannot reach the payment goal, there are down payment assistance programs (DPA) available. These programs help homebuyers with grants or low-interest loans that reduce the amount they need to save for a down payment. Many DPA and home loan programs require applicants to attend a first-time homebuyer course. Follow this link for both area-specific and statewide assistance programs and information: https://www.wshfc.org/buyers/downpayment.htm.
Six months ago, we thought that homeownership was out of our reach for the foreseeable future. Researching the options gave us multiple routes to start building financial security through homeownership. After comparing rent with mortgage options, we will only have a slight rise in our monthly housing costs. Of course, the most significant advantage over renting is that our mortgage payments will give us equity in our home. What we put in, we should be able to get out if we decide to sell. Your first home does not have to be your forever home, but it can be your entry to homeownership and asset building. Whether you're a first-time homebuyer or you have had credit problems in the past, homeownership may not be as far-fetched as you think!