Spring sprang, or has it?
Spring seems to have sprung, and I'm cautiously optimistic but not totally convinced winter is over. I see the rhubarb peeking out from the dirt, daffodils look like asparagus about to open, and even my chives are about five inches tall. Yet, I'm not convinced, and with good reason, I have a photo I took last year of a vase of daffodils on a snow-covered patio table on our deck.
This is my third spring here, so I am no longer a total newbie. Therefore, I believe I have enough authority to rename the winter to spring transitional months on the Waitsburg calendar. First change: Fickle February, it looks like spring, with occasional sun, crocus, and snowdrops, then the next day a torrent of rain, followed by some warm temperatures, then one and a half feet of snow. If that's not fickle, what is?
March should be renamed either Maniacal March or Menopausal March (synonyms?). One day it's hot, then cold, then moody gray skies, then sunny days; I put the top down on my car only to reemploy it an hour later, so I don't freeze or get drenched. Daily mood swings and hot flashes are nothing compared to the schizophrenic days of March in Waitsburg.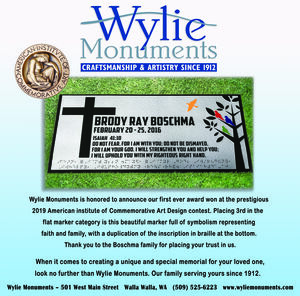 In my feeble attempt to overcome these fickle and moody months, I've started organizing our seeds, raking leaves, pinecones, fallen branches, cleaning up the lawn, taking inventory of the herbs that survived the snow and are beginning to sprout, while planting tulip bulbs and hacking at the dirt and weeding. It's therapeutic; I can take my moodiness out on the dirt, rocks, and weeds while I accomplish something.
My garden preparation system includes using my "picture this" app (thank you Gail), to confirm that the plant I'm about to yank is a weed; they nearly always are. I know Shakespeare once wrote, "a rose by any other name would smell as sweet." I cannot even start to list the variety of names that show up on the app for my weeds. The first one I snapped is known as carpet burweed, lawn burweed, jojo weed, Bini-eye, onehunga weed, spurweed, and solvia. The second picture revealed disc mayweed, rayless mayweed, wild chamomile, and pineapple mayweed. The common denominator: A weed by any other name is still a weed and NOT sweet.
I am watching my newly planted Snow Drops (thanks, Kate and Sarah) start to wither. I'm itching to start planting, but my instinct is to douse plant starts and seeds with water. But, considering this is Menopausal March, anything is possible; a heatwave, a cold snap, snow, frost, or a windstorm could take my seeds off to someone else's garden.
A few days ago, I needed the physical work of weeding to relieve the frustration of living through the chaos of the remodel of our previously remodeled bathroom. The bathroom cabinets and vanity are in the dining room, baskets of shampoo, toothpaste, towels, etc., are strewn all over the bed in the guest room, and dust was all over.
While I am anxiously awaiting the right time to start the garden, I am putting our bathroom back in some semblance of order. We were lucky, no leaks, just an old rotting sub-floor without any structure underneath. It has been corrected, with only one emergency Home Depot run to return the original flooring we chose and pick out new flooring. It was a considerably less onerous project than it could've been, and probably less frustrating than determining if March weather will stabilize so I can get a head-start on our garden competition.