Waitsburg School District Veterans Day Program
Karen Huwe
WAITSBURG - The seats were filled in the Waitsburg High School gymnasium for the Veterans Day program, "Honoring Those Who Served," under the direction of music director Elizabeth Jagelski.
Principal Joe Wirtzberger and ASB President Blake French welcomed veterans, followed by the presentation of the flags. The K-5 students entered the gym singing Neil Diamond's "America." French, Makenna Barron, and Cedar Stegall gave the history of Veterans Day.
The students worked many weeks to prepare for the program, and each class performed beautifully for the Veterans and guests.
The K-5 students sang the following songs:
• "My Flag" - Kindergarten
• "Yankee Doodle" – first grade
• "A Voice of Pride" – second grade
• "American Tears" – third grade with the HS/MS Choir
• "Star Spangled Banner" – fourth grade, with the MS/HS pep band
• "Battle Hymn" – fifth grade.
The high school band played "Taps," followed by the HS/MS choir singing "Loyal, Brave, True."
The Waitsburg School District invited Colonel James Reed Barrow, J.D., USAF Retired, as the guest speaker.
The students sang "Soldier Girl" as women who have served in the military came forward to receive a flower for our gratitude for their service. Veterans in the audience were honored as they stood when their service anthems were sung during the "Military Medley."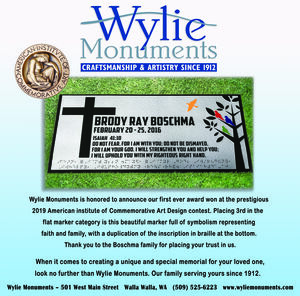 Veterans shared their names and branches of service with the audience before the students' final song, "God Bless the U.S.A." Superintendent David Woods made closing remarks followed by refreshments.