Dayton School District board meeting in April
DAYTON—June 5, at 1 p.m., has been tentatively selected for this year's senior class graduation ceremony, according to DSD Supt. Guy Strot, at last week's school board meeting.
Strot was short on details but said more information would follow after Governor Jay Inslee's May 7 COVID-19 update.
Sam Korslund, the Gear Up Academic Specialist, has been chosen for the position of Athletic Director for the remainder of the school year. Strot told the board there is one internal candidate and one external candidate for the permanent AD position.
Because of the low incidence of COVID-19 in Columbia County, there is no current negative impact on sports programs. The league for basketball is safe, Strot said.
Strot said there are eleven candidates for two open elementary school teaching positions. Interviews will take place on Apr. 28.
There are seven candidates for the position of the elementary school principal. Interviews will take place the first week in May.
Strot talked about using COVID-19 relief funding to repair the electrical system at the elementary/middle school and adding an HVAC system for increased ventilation.
Alternatively, Strot will apply in September to a state-funded grant program, which has no match requirement.
"We could make a substantial number of improvements to the school, for under five million," he said about the award.
If the District does not get the award, COVID-19 relief funds can still be used along with other funding mechanisms.
Strot talked about the need for a new radio system. He told the board the antenna that connected the radios in the school has been inoperable for many years. The two-way radios only work in the elementary and middle schools and in the District office. They don't work in the high school, Ag Building, the gym, or out to the football field. Radios will cost a little under $8,000.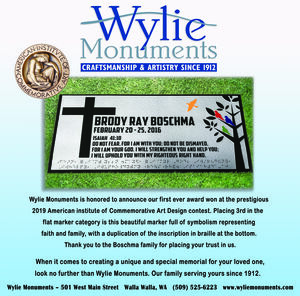 There are safety concerns right now. The lack of video cameras also poses safety concerns. School officials are working to obtain quotes from several vendors for video cameras.
Strot will report back to the board in May.
In June, representatives from Say Yes to Education will present their findings from a recent community survey completed by 54 staff, 22 community members, 136 parents, and between 90 and 95-percent of the students.
Supt. Strot, who is also the Elementary Principal, said he is finishing classroom observations in the elementary school.
Students in Grades K-5 received art instruction through Brushes and Brix last week.
MS/HS Principal Kristina Brown said a couple of different graphic designs for the DW Combine mascot are being reviewed.
Students in FBLA are participating in the virtual state final competition.
Fifteen students took the SAT on Tuesday, Apr. 13.
MS/HS Principal Kristina Brown said staff took part in the Hidden in Plain Sight virtual activity through the Coalition for Youth and Families. The training was to educate teachers, parents, and community members about where to look for illegal substances and drug paraphernalia.
Ag. teacher Jennifer Crane has won a $2,000 scholarship for professional development.
The annual plant sale is scheduled for the first Saturday in May, Brown said.
ASB President Mackena Culley said Homecoming Week was a success. Monday was dress-up, throw-back day. Students made spirit sticks to bring to pep rallies. A Pep assembly was held on the front lawn on Tuesday. Voting for Homecoming Queen and King and ASB elections took place on Wednesday. On Thursday, the Queen and King were crowned, and everyone ate pizza. On Friday, students played volleyball. A Spirit Week with volleyball and food is planned for the end of May.
There will be no Prom this year because of social distancing requirements, according to the Junior Class President, Trista Villaro.
The Dayton School District board of directors adopted Resolution 2021-04, providing credit waivers to graduating seniors in the Class of 2020 and for those in the graduating class of 2021 who feel they have been harmed in some way because of the COVID-19 situation.
"You have to have completed a majority of credits, completed the High School and Beyond Plan, and have to have done a Pathway to be considered," Superintendent Strot explained to the board. "It cannot be for more than two credits and not more than one core credit."

Strot will make a plan recommendation to the board in May, with implementation in June.