Teach like a pirate: Erin Murphy
Mike Ferrians
I've known Waitsburgian Erin Murphy and her husband Nathanial for many years. It occurred to me recently: these people are always in school, always taking classes, always working toward another degree. I sat down with her recently to ask about her commitment to learning.
Last year she earned her Bachelor of Arts (B.A.) in Educational Studies and began teaching music at Starbuck school as a paraprofessional. It was the realization of a childhood dream, but other degrees came first-along with other occupations.
"I have an Associate in Arts degree and an Associate in Business degree, both of which I got in 2006," she said. "Then I went back to school in 2009 and got my Bachelor's in Business Administration. In 2019, I went back for my B.A. in Educational Studies." Murphy has worked as a food service manager, then put in some time as the truck scale clerk at Columbia Straw. Murphy and her husband, Nathanial, ran his business, Mary's Candies, at Blue Mountain Station in Dayton for four years.
Nathanial holds degrees in Culinary Arts and Business Marketing and is currently working on a Master of Human Relations degree.
"I've always enjoyed helping people learn something, and I've wanted to be a teacher since I was a little girl," said Murphy.
Growing up, her older sister was always the first to do something Erin wanted to do. So, Erin heard, "Oh, you're just like your big sister. Isn't that cute".
When big sister decided to go to school to be a teacher, Erin was discouraged.
"No way was I going to do it then. That was always the problem; her doing it first."
She decided to study business instead, though, the desire to teach never went away.
Erin is not all study and no play; it's worth mentioning that Erin's big hobby is Pirate cosplay (costume play). She's been dressing up and attending cosplay events since 2010. For years she has been involved in a MMORPG (Massively Multiplayer Online Role-Playing Game) called Puzzle Pirates. The game's website claims thousands of participants from across the globe. But more on pirates later.
This year the couple designed office space at their home, complete with individual work stations and plenty of room for their business, NE Custom Creations. Say the name out loud a few times, and you realize you're saying, Any Custom Creations.
The business uses pressure-sensitive and heat transfer vinyl to create custom designs for everything from fabric and mugs to signs for a business. The designs are made using specific software and fed directly to a vinyl printer. Storage totes in their office hold dozens of rolls of vinyl in many colors. You can find NE Custom Creations on Facebook.
Erin has made use of these creative skills in her work as a music leader in Starbuck. Public school teachers are especially creative with teaching supplies, with some costs coming out of their own pockets.
"My favorite teacher growing up was probably my seventh grade English teacher, Mrs. McCoy," she said. "Never did she not have time for a student. She would stay after school to help someone if they asked for it. Students would go into her room just to talk about stuff. She even let me drive her car to get my driver's license." Murphy grew up in Finley, Washington (school district #53). "That's the kind of teacher I want to be," she said.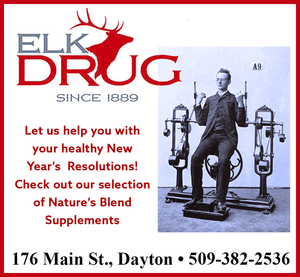 Erin teaches music four days a week in Starbuck (school district #35). Her favorite teaching resource right now? "Teach Like A PIRATE" by Dave Burgess. Mr. Burgess loves pirate stuff every bit as much as Murphy. (Look him up at www.daveburgess.com). His book, written in 2012, is based around the acronym P.I.R.A.T.E .: Passion - Immersion - Rapport - Ask & Analyze - Transformation - Enthusiasm. Erin let me browse through the book and read a story or two from its pages. As a music teacher myself, it was impressive to see. 
Oh, and did I mention Erin's at school again, too? "I'm working on my Master's in Elementary Education. I'll finish at the end of 2021." Wow, that woman. I want her to teach me how to be a pirate.