Columbia County Health System to provide pre- and post-operative orthopedic care and dermatology consultations
Michele Smith
DAYTON-Patients who need pre-operative and post-operative orthopedic care can now receive that care from a board-certified orthopedic surgeon, and certified physician assistants, at Dayton General Hospital's Physical Therapy Department. The hospital district has contracted with Lewiston Orthopedics for this service.
Physical Therapy Department Manager Michael Schwarz said he approached Columbia County Health System CEO Shane McGuire about a year ago regarding the possibility of bringing orthopedic care to Dayton General Hospital. This was because of his patients who talked about the difficulty of traveling outside the area for treatment.
"I would see the ramifications of driving to Walla Walla or the Tri-Cities with a post-op hip, knee or shoulder. They would have swollen joints, and increased pain, and this would set them back," Schwarz said.
It took a series of year-long meetings with the Lewiston Orthopedics staff; Dr. Bryan Beardsley, CEO Cindy Keene, and Director of Clinical Services Lacy Sangster, to work out the logistics, Schwarz said.
"We've had nothing but good reviews from patients who have already been to this orthopedic group," said Schwarz.
Dr. Regan Hansen, who specializes in hip, knee, and shoulder problems, and Dr. DeWayne Weaver, who specializes in elbow, knee, hip, shoulder, and sports medicine, and their assistants will see patients every other Thursday, from 11 a.m. until 2 p.m.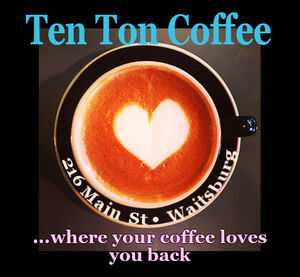 Schwarz said providing this service is not intended to replace the care people receive from their own physicians, but is intended as another option. If surgery is recommended, referrals can be made to physicians of their own choice.
Appointments can be made by calling the physical therapy department at: (509) 382-3202
The Waitsburg Clinic is also adding new services with dermotology consultations. Matt Gambon said his first Friday working at the clinic was busy.
Gambon is seeing patients every other Friday from 10 a.m. until 2 p.m. to perform skin checks and monitoring.
Gambon received his education and training at the University of Washington School of Medicine and is a Certified Physician Assistant with twenty years of experience in acute care, orthopedics, and esthetics.
He is under contract with Eastern Washington Dermatology in Walla Walla, delivering esthetic and cosmetic care.
Gambon said adding esthetics to treatments at the Waitsburg Clinic is a possibility.
"We just have to get streamlined. It's pretty complicated," he said.
Appointments can be made by calling the Waitsburg Clinic at (509) 337-6311.