Dayton Library Director encourages feedback
The Times reached out to Todd Vandenbark, MLS, Director of Library Services for Columbia County Rural Library District to respond to the recent requests to remove content from the collection during public comment at the last Library Board meeting, The following is a statement
"The Columbia County Rural Library District welcomes feedback from patrons, community members, and others regarding its collections and services. The presence of visitors at this and other Board meetings demonstrates that the library is an important institution in the life of the community. It also makes it clear that books and other library materials can make a difference in the lives of all residents in Columbia County, including its children. Because of this, my staff and I work diligently to select books and other materials that will support all members of our community. A parent or guardian has the right and responsibility to make decisions about what materials are suitable for their own family. No one has the right to make rules restricting what other people read or use, or to make decisions for other families.
"For adding and removing materials from our collection, my staff and I follow the library's Collection Development Policy, which is available on our website. My role as the Library Director is to help select and approve all additions to the collection, including items mentioned at our most recent Board of Trustees meeting. To serve our entire community, my staff and I seek materials on a broad range of subject matter that reflect diverse experiences. We do not select materials based on our personal beliefs. The Board of Trustees of the Columbia County Rural Library District has delegated the responsibility for selection and evaluation of library resources to the Library Director and has established reconsideration procedures to address concerns, from county residents, about these resources. Those wishing to express concerns about library materials, services, or events are invited to complete a 'Request for Reconsideration of Materials' form available at the library"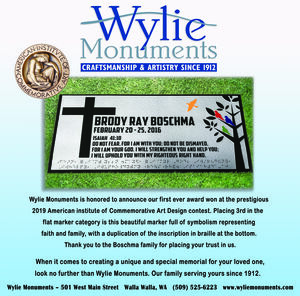 Vandenbark became the Director of the Dayton Memorial Library in 2021. He has a Masters in Library Science with a specialization in Technology Management from Indiana University and a B.A. in Psychology from Luther College, in Decorah, Iowa.
Before coming to Dayton, he was the Information Literacy and Technology Librarian at Warburg College in Iowa. He worked more than a dozen years as an academic librarian.
Since coming to Columbia County, he has added programs, including the WSU Extension's Master Gardening and the Northstar Digital Literacy Assessment programs to the library. The latter is aimed at helping adults acquire the skills they need in today's workplace.
The CCRLD Director has brought the library grants that helped to offset some of the budget cuts on the purchase of books, videos, and other physical materials. Funds used to expand technology resources available to the public, the purchase of craft materials for the "Take and Make" program, and cover costs of the monthly "Family Story Time," including meals for families and books to be given to each child in attendance.