PIONEER PORTRAITS
Ten Years Ago
November 24, 2011
The Waitsburg Resource Center, which opened in the American West Bank in December 2010, is being used by our neighbors more than ever. The city's food bank had been run out of the basement of the Presbyterian Church for 25 years until the bank offered up its space. The churches in town formed a board and its new visible spot and word of mouth is bringing more neighbors through the doors, said Bethany Moser, the chairwoman of the board. The Leos Club at Waitsburg High School does a food drive for the food bank each year in addition to drives by other clubs and help from the Blue Mountain Action Council and individuals.
[Photo Caption] Cardinal Justin Zuger holds on and earns the extra yardage needed for a first down in Saturday's matchup against the Broncos in Pasco.
Twenty-Five Years Ago
November 28, 1996
Mr. and Mrs. Joe Abbey will observe their golden wedding anniversary at a reception and light buffet to be held Sunday evening, Dec. 8 for 6 to 9 p.m. in the Legion Banquet Rooms. Joe Abbey and Elizabeth Danielson were married on Sunday, Dec. 8, 1946, at 3 p.m. in the Waitsburg Methodist Church with the Rev. Aubrey Windsor officiating. Joe is the son of Bruce and Jennie Abbey. Elizabeth's parents were Velma Auer and Dewey Danielson. Both are Waitsburg High School alumni having graduated in 1944 and '45 respectively.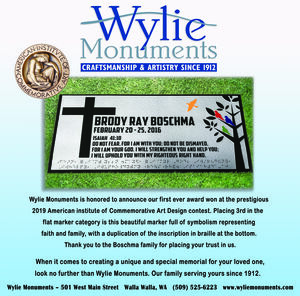 Members of the Waitsburg Pool Resources Committee are again asking for help to complete renovation of the city swimming pool. More than $100,000 has been raised for the equipment purchased and the work performed to this point. Approximately $20,000 to $25,000 more is needed for the diving board, slide, fencing and other materials costs. The February Flood of 1996 placed an added burden on the financial situation. Some of the work had to be redone after the pool filled with mud and floodwater.
Fifty Years Ago
November 25, 1971
A group of young Waitsburg livestock exhibitors fared quite well at the Pacific International Livestock Show in Portland, Or., held November 15 and 16. Over-all, the group won the contest for the best three Hereford steers from a single county, the steers shown by Debbie Smith, Pam Smith and Terry Conover. A little larger group won the county herd title for the best five head of any breed. Winners were Terry Conover, Debbie Smith, Darleen Smith, and Pam Smith. Both these titles and trophies went to those girls representing Walla Walla County.
[Photo Caption] Returning lettermen for the Waitsburg Cardinal basketball team line up for a pose for Cardinal photographer Richard Bray. They are Terry Lambert, Jerry Baker, Jeff Peterson, Guy McCaw, and Neil Carpenter. The Cards open their season on December 3rd at Connell at the league Jamboree. Dave Harshman is the new cage coach for the Redbirds. The team will practice during Thanksgiving vacation at 10:00 a.m. on Friday the 26th, and will hold an intra-squad scrimmage on Saturday morning to which the public is invited.
Seventy-Five Years Ago
November 29, 1946
Competing for the first-string berths on the basketball team are Wally Lowery, Bob Wardrip, Jim Archer, Gary Johnson, Bob Leid, Bill Zuger, Bob Danforth, Dick Polumsky, Bill Allen, and Gerald Gibson. Other candidates who should be very much in the running are David Dilts, Lester Callahan, Lyn Roseberry, Warren Woods, Arland Johnson, Bill Ritter and Fritz Zuger.
Coal supplies in Waitsburg have been practically exhausted at the fuel yards and no one is allowed to have coal if they have more than a ten-day supply. The situation has been brought about by a strike of coal miners.
One Hundred Years Ago
November 25, 1921
Fully eighteen inches of snow were on the ground here Monday night, when one of our famous gentle Chinook winds started the beautiful cover to shrinking in double-quick time. It commenced snowing in earnest Friday evening and kept it up without a break until Monday evening.
One Hundred Twenty-Five Years Ago
November 27, 1896
Mr. and Mrs. E. C. Davies and Mr. and Mrs. J. B. Caldwell went to Walla Walla on Tuesday evening to attend the Elk's Social. They report an excellent time.
This week Mrs. N. B. Denny had placed at the grave of her departed husband, a magnificent monument, one of the handsomest in the City Cemetery. It is of sarcophagus design, weighs three tons and is a fitting ornament to the last resting place of a good man.