Veterans are Remembered
Two students are mustered at memorial service, and two names added to memorial wall
Dena Wood
WAITSBURG – This year's annual American Legion/Auxiliary Memorial Day Service included the addition of two names, Mel R. OpBroek and John A. Lanning, to the memorial wall, and included a muster for graduating seniors, David Just and T.J. Morrison.
Legion Commander Ron Standring and Auxiliary President Rose Engelbrite opened the ceremony which began with a flag lowering by the Swine Swaggers 4-H group. Standring led in the Pledge of Allegiance and Pastor Matthew Wyatt provided the invocation.
Three seniors presented their winning American Legion Auxiliary essays on the theme, "How does learning about government and our America help you become a future guardian of the liberties of our country?"
"A guardian of liberties is someone who doesn't discriminate on race, religion, social status, economic status, gender, or anything else but someone who cares about the well-being of humanity as a whole. By caring for America you are providing a better place for you and the people around you," read Analisea Araya from her essay titled "A Guardian of America."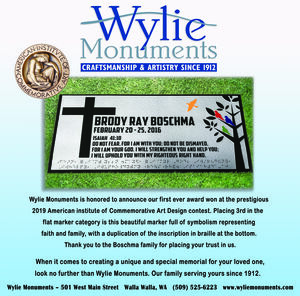 Selina Mercado echoed that thought in her essay titled "Liberties Worth Protecting."
"A guardian of liberties doesn't need wealth, or have to live in a mansion. They just need to care about others, and value the town and country they live in," she said.
Cameron Terry's essay, titled "Guarding America's Freedoms," spoke about the importance of freedom, with a focus on freedom of speech, especially as related to the press and civil rights. He cited an example of the Nazis taking control of the press during World War II, in order to promote propaganda.

"If our country doesn't retain the freedom of speech for our press, our nation could fall into a state of oppression and ignorance," Terry said.
Graduating seniors David Just and Theodore (T.J.) Morrison were called to the podium with their families to receive a traditional Waitsburg muster. Former service members in the audience came forward to share in a first military salute, led by Jack McCaw.
Just, son of Jason and Stacy Just, has taken the oath to become a member of the U.S. Navy. Just represented WHS at the state wrestling tournament his junior and senior years and attended the FFA State Trap Shoot all four years of high school. He is an avid hunter and fisherman, and enjoys spending time outdoors. He will attend boot camp in Pensacola, Florida, and will train to be a navy diver.
Morrison, son of Joe and Sandra Morrison, has joined the U.S. Air Force. Morrison has been active in football, cross country, wrestling and track, and just competed at the 1B State Track and Field Meet in Cheney. He is an FFA member, where he showed livestock and participated in the trap shooting team. He plans to make a career in the Air Force.
The names of Mel R. OpBroek and John A. Lanning were added to the wall this year and recognized at the ceremony. OpBroek was a Korean War veteran and Lanning served during the Viet Nam era.
Engelbrite shared that the Auxiliary is raising funds to add a bronze life-size replica of boots, a rifle, and helmet, to be placed at the base of the flagpole in remembrance of those who have served. Anyone interested in donating or learning more can contact her at (509) 337-8875. They hope to have the replica in place by next year.
The Blue Mountain Chorus Sweet Adelines performed the branch of service roll call with a military medley. Audience members stood as they recognized their branch's theme song. The Waitsburg Quartet led the audience in "God Bless America."
Dena Wood
Baily Standring lit the eternal flame and Daniel Foley placed the memorial wreath. Makenna Baron and Addie Johnson sang "America, The Beautiful." The Dayton American Legion Post #42 gave a gun salute, and Wyatt Bohlman closed the service with "Taps."