Retiring Together
John and Dinah Lindsey wrap up long teaching careers in Dayton, Waitsburg
Dena Wood
WAITSBURG – For Waitsburg residents John and Dinah Lindsey, attending a local sporting event together has always required careful consideration, to find a seat in the most neutral location possible. With nearly 75 years of teaching and coaching between them - John in Dayton and Dinah in Waitsburg - the couple is looking forward to retiring together at the end of this school year, bittersweet as it may be.
John and Dinah, both known for their strong relationships with their students, will be sorely missed in their respective districts.
Dinah's father was a navy submarine captain and she grew up "always by the ocean." The family moved every few years, living in Bremerton, San Diego, and Hawaii. When he reached the rank of captain, Dinah's father was stationed in Washington D.C., and Dinah graduated high school in Virginia.
Dinah said she made the decision to become a teacher early on, and spent two years studying education at Elon College in North Carolina. She followed her family to Washington, and attended Eastern Washington University when her father became the commanding officer of the Trident Training Facility in Bangor, Washington.

John is a Waitsburg High School graduate and grew up in Dixie. After graduation, he attended EWU, and took general studies until he found satisfaction in an elective wood and metal shop class, eventually earning a degree in industrial arts education, with a minor in traffic safety.
Dinah is two years older, and the couple met in an art class during the first quarter of John's freshman year. They became, and remained, a couple throughout college. John didn't walk during his graduation ceremony, forgoing that observance for the greater honor of walking down the aisle with Dinah on his graduation day, instead.
The couple was married at the Waitsburg Christian Church by Reverend Vernon Smith, who had also been John's childhood school bus driver.
Dinah graduated from EWU in 1979 with a degree in physical education and health for middle and high school. She taught P.E., dance, and health, and coached basketball, volleyball, and track in Omak, Wash. for three years.
John graduated in 1981and worked at a Coast-to-Coast store in Omak while filling in as a substitute teacher and coaching middle school volleyball and track. With no teaching positions open in John's field in Omak, he applied for an opening in Dayton, where he was hired to teach woodshop.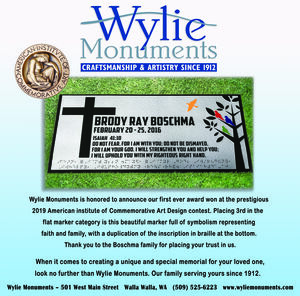 "I've only ever interviewed for one job in my life and that was it," John said.
Unable to find housing in Dayton, the couple settled in Waitsburg, where they have remained and raised their two sons.
While he started out teaching high school woodshop, John has taught multiple subjects in grades 4-12 over his career. For years, he taught all the science classes for several grades.
"Others didn't like the mess and having stuff out, and I don't mind that. And I like getting them out of the books and off paper," John said.
One of his favorite projects is raising rainbow trout, a relatively fragile fish, for release. The kids wear white lab coats while they use clipboards to record data, and students make posters and keep fish journals, he said.
Always the hands-on guy, John said his absolute favorite project has been the ski program, which he currently directs, and has been a part of for 19 years.
"I've taught a lot of kids to ski over the years. I loved hearing the kids cheer and yell in the morning when I'd say, 'You're never going to hear another teacher say this. . . . LET'S GO SKIING!!'" John said, laughing.
"John and I developed a great friendship through the years and have a lot of 5th grade ski trip memories. He was a wonderful instructor in the ski hill. He worked his magic with a lot of the fifth graders who were struggling. By the end of our ski days, they were skiing," said fellow teacher Kristin Ramirez. "As a teaching partner, John taught me patience and not to sweat the small stuff," she added.
After moving to Waitsburg, Dinah worked as a substitute and coached, but was soon offered a position as a kindergarten teacher/coach.
"I'd never, ever, considered elementary, but as soon as I started I knew this is what I was supposed to be doing. I had no idea this was going to be my calling. It's where I've been ever since, except for a move to first grade in 1990," she said.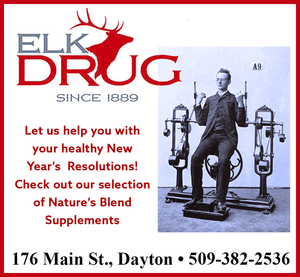 "I love the magic of teaching them to read. It feels like a miracle every time. I get the joy of watching them become lifelong readers from the start," Dinah said, when asked about the best part of her job.
Dinah is known for special classroom traditions, such as her annual Thanksgiving feasts and trips to the Lindsey's pumkin patch.
When they moved to their home on Taggart Lane in the late 80's, John and Dinah planted a pumpkin patch with the intent of bringing Dinah's students out to pick pumpkins. They've never missed a year, though Dinah had to watch her class from the kitchen window one year when she was ill.
Her most meaningful tradition, an idea she heard at a workshop and initially intended to be a one-time event, is her Mother's Day letters, where she shares the good she sees in her students and their mothers.
"People have asked me what I'll pass on and that's the story that I want to pass on to other teachers," she said.
Dinah said she went to the Post Office the day after she had sent her first letters and found a woman crying. When she asked if she was OK, the woman said, "I'm reading your letter. I'm a single mom and no one ever says these things to me."
Another time, Dinah attended the funeral of a former student. As she walked by the casket, the student's mother was holding the letter Dinah had written about her son, years prior.
"It's these tiny little stories that you hear that mean so much. Next week, I'll start my letters for the last time," Dinah said.
Both John and Dinah have coached multiple sports throughout their careers. They laughed as they recalled trying to figure out where to sit to watch games.
"As a teacher, it means a lot when you show up to a game. The students always know. When they did this," John said, pointing to his DW t-shirt, "we went 'Hallelujah!'"
"We are finally united! We were happy for the DW!" Dinah said, laughing.
Both Dinah and John said that the most important thing to each of them is the kids. Relationships with the kids is a big deal, they agreed. Their co-workers concur.
"Having taught next to John for a number of years, I was always impressed by his efforts to develop a real relationship with his students. You can tell he really cares about kids," said teacher Clint Reser.
"I have had the pleasure of being a co-worker to Dinah for the past twenty years and prior to that my contact was that of a parent to two of her students.  Dinah's gift of teaching and love of life is on display each and every day. She is the sunshine at the beginning of each day to her students, and at the end of the school day she can be seen walking her students out offering words of encouragement to both students and parents," said elementary school secretary Linda Henze.
"The enthusiasm, energy and excitement that Dinah brings to her classroom, the school, and the district will be greatly missed," said Superintendent Carol Clarke.
Times File Photo
When asked about their plans for the future, the Lindeys say they have made a commitment not to take on any new responsibilities for at least a year. They plan to "goof around," spend time on their boat, and take some long overdue family trips.
"We both decided to retire together about a year ago. It felt like the right time for both of us. It feels so right for us right now that I don't have any doubts that this is the right thing for us to do," Dinah said.