Wild At Heart: Becky Wilson
Mike Ferrians
Those of us who may be familiar with one Becky Wilson in Waitsburg will be tickled to learn that there is now a second Becky Wilson in town. Recently, this Becky Wilson purchased the old Hofer farm property on Highway 12, about a mile south of Waitsburg. The four-acre property includes the house, a massive barn, garage, a large shop building, and two towering Locust trees. Wilson closed on the place in June, parked her Airstream trailer next to the house, and went right to work on restoration.
I was privileged to spend some time chatting with her at her new home. Joining in the conversation was her two-year-old Schnauzer, Bandit. "He's full of it," she said.
Restoration is only one of Wilson's passions. She has been in business for herself as a graphic designer since 2003. She owns and operates Wilson Design Company, with an office in downtown Walla Walla which she renovated and redecorated. Next, she opened her vintage store, The Red Bicycle. It is also located in downtown Walla Walla, above Tallman's Pharmacy.
Her love for restoration then took a turn to RV's. She buys them, restores them, then sells them. Each one has a name. The first was "Georgia the Argosy 24" (a 1970's era sister production to the Airstream). Then there was "Sawyer the Sunrader" (a 1970's Toyota production). Wilson's aim with each one is to return it as close as possible to its original factory state, perhaps with a creative touch or two of her own.
Her latest home on wheels is "Alice the Airstream." 
"These things were loaded with all kinds of built-in gadgets and features," she said. "This one cost more than $100,000 in 1984" (Over $262,000 in today's money). It's a beauty, and it's beautiful inside. 
Then there is the third passion: mountain biking. Raised in the mountains around Tollgate, Oregon, Wilson has always stretched her wings in the wild outdoors. In 2014 she founded "Wild at Heart," a women's mountain biking and race club, which has involved as many as 80 women in three Western states. She owns five mountain bikes in all. I saw three of them: her "all-mountain" bike, for racing; her "gravel" bike, for groomed trails and riding up hollows and such; and her "camping bike," which she uses for carrying a mountain of gear. She once did a 225-mile, 5-day camping trip on that one. 
"Bikes are like shoes; there's one for every occasion," she said. The entry foyer of the farmhouse currently serves as handy storage for shelves of biking gear.
Liv Cycling, a cycling brand dedicated to women, became sponsors of "Wild At Heart." This naturally led to her becoming an official Liv Ambassador, where she is a mentor and coach for women interested in mountain biking and racing. She loves empowering other women with a more enjoyable biking experience.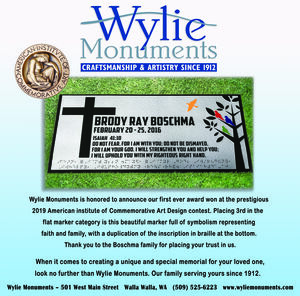 "Husbands trying to teach their wives to mountain bike usually doesn't work," she laughs. "They usually just say, "Do this, do that.' But if you explain the mechanics behind why they're doing something, then they understand."
Meanwhile, Wilson has been busily evaluating the Hofer place, originally built in 1915. It has seen numerous remodels over the decades. She has already begun work on the house, but her priority is the barn.
The years had taken a toll on the massive structure, which was listing considerably when she arrived. With the help of a contractor friend, she has been able to straighten and strengthen, bringing new life to the barn.
She was fortunate to find a deal tearing down the old Stateline Livestock building in Milton-Freewater - built in the same vintage as the Hofer barn. In return, she was able to salvage the perfect materials for re-siding her barn. Results from this first stage of work can be seen on the south side of the structure, which now gleams with a bright white new face composed of the salvaged vintage siding. In addition to the siding, 1x12 boards from the Stateline structure also support the new metal roof.
"Those are old-growth Douglas Fir, 20-feet long. You can't buy that now. And new lumber is expensive. When I'm standing here looking up, I don't want to see new pine boards. I want to preserve the look of the old," said Wilson, and Bandit agrees.
 Graphic Design. Mountain Biking. Restoration. Wilson will say that none of her passions rank above any other. They all have a purpose.
"Mountain biking is fun; restoration is work with all the rewards, and I'm lucky to have a job I love."