Locally Nourished, beautiful and tasty fare
Lane Gwinn
Thursday morning, I met up with my friend and local businesswoman, Regina, to have breakfast at Locally Nourished in Dayton. As soon as I drove up and parked in front of this café, I felt welcomed by the beautiful greenery forming an arch over the doorway.
Walking in, I was struck with the casual and elegant design of the dining room. The menu and menu boards are clear and easily read from a distance. There is a display case with the daily specials and staples promising fresh seasonal treats made in-house.
After my friend arrived, we decided to sit inside the café. There is also a dog-friendly patio, and I plan to come back before the weather remembers it is almost winter. The furnishings inside are eclectic and comfortable. The artwork on the walls makes the space feel like a nice blend of art and food, featuring local artists.
There is a nice selection of food on the menu, savory and sweet. The coffee is from Rey's Roast, not only my choice but a local favorite. I had a tough decision between ordering the ½ order of biscuits and gravy (my Texas roots) and the Everything bagel, lox, cream cheese, and capers (my L.A. college years).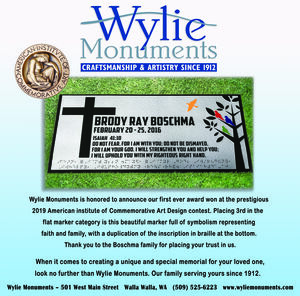 I went for the bagel and lox, which tuned out to be just the memory-lane I wanted to go down. Everything was fresh and tender. The capers were the nice sharp-taste to bring out the flavor of the lox. It was a filling but light, dare I say, healthy breakfast that will have me come back for more.
Locally Nourished, 217 E. Main St, Dayton, Wash. (509) 382-3067.