Pioneer Portraits, Vol 47
Ten Years Ago
January 28, 2010
The local horse racing industry has been dancing on the edge of decline for some time. But a shortage in state funding for smaller tracks could force organizers to cancel spring races altogether. "We thought we had 2010 racing events covered," said Melissa Hansen, who oversees the Dayton Days horse races scheduled for May, "now we're all up in the air. It's a scary space to be in because we just don't know what's going to happen."
Waitsburg has a new fire chief, who for the first time, will receive a small stipend for the many hours the position requires. The City Council Wednesday unanimously approved the local firefighters' nominee, Jim Callahan, and had little choice but to allow the requested $250-a-month compensation, which Mayor Markeeta Little Wolf called a "nominal" amount for what the city is getting.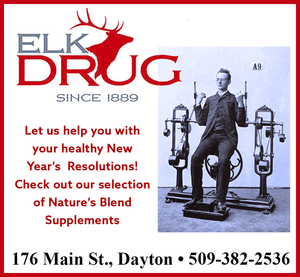 Times publisher Imbert Matthee flies the flag of Rohan over the site where Peter Jackson filmed the Lord of the Rings in New Zealand's Southern Alps.
Twenty-Five Years Ago
January 19, 1995
[Photo caption] Bald eagle, upper left, perched near Middle Waitsburg Road. America's majestic symbol, the bald eagle, has made a remarkable comeback in the past few years from the brink of extinction. Numbers of the big bird have risen nationwide and the federal government recently reclassified the American bald eagle from endangered to threatened.
A 38-year-old Walla Walla man, who allegedly bashed his way into one Huntsville area home and talked his way into another, has been arrested by Columbia County deputies for criminal trespass and is suspected in a burglary.
The lonely frame of the east classroom wing left standing at demolished Waitsburg Elementary School saved the school district $52,000 is construction costs, Burton Dickerson, the superintendent, said.
After hearing a proposal from Columbia County's sheriff to take over police duties in the city of Dayton, a special committee to review the issue has recommended that the Dayton City Council work to "clean up our own house" before taking any action. "I am not in favor of pursuing a contract with the county as it would only be a quick fix," council member Jon Vachal told fellow members Jan. 10 at their meeting.
Fifty Years Ago
January 22, 1970
One of the worst ice storms ever experienced in this area sent hundreds of tree limbs crashing into power, telephone and TV lines throughout the city Sunday night.
An unidentified reader called the Times and suggested that a "Mess of the Month" award be given. At the present moment, judges find it to be a toss-up between Mrs. Gertrude Moore, Tenth and Walnut Streets and Miles Brunton residence at Eighth and Main.
One disgruntled matron was heard to mumble recently that if the first three weeks of the new year were an indication of what to expect in this decade of the "Sickly Seventies," she would just as soon return to the "Sexy Sixties."
Seventy-Five Years Ago
January 25, 1945
The Bailey building has been leased by Homer Reed and Miles Brunton for the new location of the Touchet Valley Hardware store.
Wait-Hi students are planning a potluck supper Saturday evening after the game in honor of the Garfield basketball team who are playing here that night.
A group of Republican visitors at Olympia, wives of state representatives there for the legislative session, gave a party at Hotel Olympia Tuesday evening for Mrs. Clarence Eaton. Their husbands on the same evening, were honoring Rep. Eaton, sole Republican of House Committee.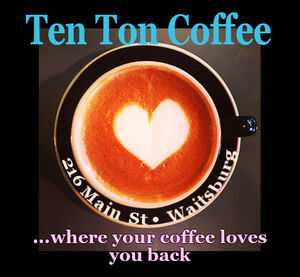 One Hundred Years Ago
January 30, 1920
Mr. and Mrs. Rufus R. Johnson, newly-married young people, were tendered a surprise party at their farm home a few evenings ago. The bunch took along lunch, which later in the evening was a spread. Those present were Mr. and Mrs. John Rinehart, Mr. and Mrs. Forrest Conover, Mr. and Mrs. C. N. Eaton, Mrs. and Mrs. Walter Heffron, Miss Broxholm, Sadie Bruch, Hazel Dudley, Grace McCall, Arthur Park, B. O. Porter and Ardie Henderson.
The first grade honor roll for Central School includes Donavan James, Leon Slater, John Starr, Adrian Tate, Walter Zuger, Roxie Bruce, Jean Bowman, Erma Shuham, Tennys Teeter and Lola Woodworth.
One Hundred Twenty-Five Years Ago
January 25, 1895
As we go to press we learn the very sad news that Earnest Fudge of Huntsville in some manner on Thursday afternoon accidentally discharged the contents of a shotgun into his left breast, from the effects of which he died in a very short time.
Emerson Wheeler has engaged to teach a spring term of school at the Elliott school house on Coppei mountain.
Robert Thompson has purchased J. T. Miles' express and baggage wagon, and mail route. Schuyler Arnold now drives the mill wagon.
A.W. Philips will go to Pullman on Saturday to take advantage of the lectures and experiments for the benefit of farmers to be given by the agricultural college there.