Sportsmanship shown by the area teams restores enjoyment of basketball
As adults we sometimes get way too involved in our kid's athletic events. I know I have fallen down that rabbit hole a few times with my own kids and now again recently with my semi-adopted kids, the ones I cover as a member of the Waitsburg Times writing staff. I have had to remind myself that I need to be more neutral and objective, but it can be difficult when you really care about the players doing well.
Most of us have seen the stories with the out-of-control parent or the overly aggressive athlete or even former Indiana Coach Bob Knight's infamous toss of the chair across the court. The story that still hits home to me as a former baseball umpire is the 13-year-old umpire at a Little League game who made a call that parents and coaches disagreed with, resulting in a brawl in front the seven-year-old players. What outcome of an athletic contest can ever justify this type of behavior? Are we so obsessed with winning that we can allow ourselves to become monsters?
I quit following and having any interest in professional basketball back in 1999 after the basketball strike. It doesn't help that my favorite team, the Seattle Super Sonics, no longer exists, and no I'll never get on board the Oklahoma bandwagon. The other reason I tired of basketball and at times all sports, is the smack talk that seems to be going on, and even glorified at times because to me that behavior takes so much enjoyment away from the game itself.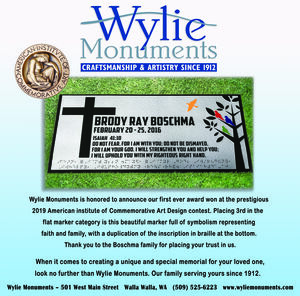 One of the reasons I might have gotten too involved in a game early this season had a lot to do with the opposite of what I have described. I recently relearned to love basketball by returning to the reporter's chair and specifically from watching the Dayton-Waitsburg basketball teams. One of the first instances I witnessed good sportsmanship was my first game in the Dayton gym in several decades. I saw it time after time there would be bodies flying and someone on the D-W team would reach over and either apologize for the hard hit and/or help the player up off the ground. I also witnessed these behaviors from other teams and their fans while on the road. It felt good to return home to good people.
But the event that really opened my eyes to the true character of the players in the Touchet Valley happened in late December, again in the Dayton gym. D-W played a very physical contest against visiting Riverview of Finley, Wash. They were clearly out-played but the team never whined or complained or quit. Also, something took place that I felt was incredibly unsportsmanlike, it came from the play of the other team as they kept the full-court press on even late into the fourth quarter of the game up by over 20 points.

For me, as a witness, I felt kind of bitter towards the opposing team and felt the Dayton-Waitsburg boys' team could have been justified in holding a grudge. Yet, as I was standing outside the locker room waiting to interview the players and coach, I saw several D-W players saying kind words and well wishes to the other team as Riverview players exited the building. And while doing so they showed no bitterness or hard feelings. I felt humbled and amazed to learn such an amazing lesson at the feet of those I should be more of an example to.
By their example I truly learned the meaning of sportsmanship. I also learned the value of having the proper perspective on all athletic contests. Ideally, we'd like to win every game, but we also learn so much from adversity and losing as we do from victory. Over the season I have come to see many such examples of kind acts, kind words, and the value of what sportsmanship truly is and that it isn't always about winning but about improving as a person. It's also just about enjoying the experience and loving what you are doing.
I have come to really admire and enjoy the athletes of this Valley and look forward to watching many more contests in the future from these high-quality individuals who have been raised well.